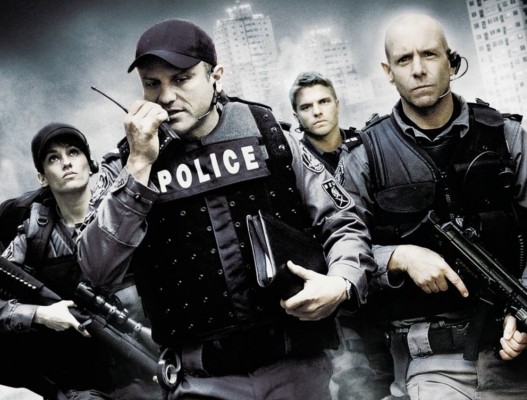 Otmice, teroristički napadi, delovanje opasnih kriminalnih grupa, samo su neke od pretnji sa kojima se "SRU" suočava.
Opremljeni najnaprednijim tehnološkim inovacijama i oružjem, članovi specijalnog tima koriste taktičko i pregovaračko umeće pri rešavanju opasnih situacija, ali ukoliko se miroljubivi pristup pokaže kao bezuspešan, poseže se za oružjem.
Neustrašivu jedinicu SRU čine Ed Lajn (Hju Dilion), Džulijana - Džuls Kalahan (Ejmi Džo Džonson), Luis - Lu Jang (Mark Tejlor), Džordž - Greg Parker (Enriko Kolantoni), Majk - Spajk Skarleti (Serđo Di Zio), Roland - Roli Krej (Gabriel Hogan), Kevin - Vordi Vordsvort (Majkl Crim) i Sem Bredik (Dejvid Petko).
Pratila sam tu seriju na RTL-u kad je bila, gledala sam sve epizode i predobra mi je serija :D
_________________
Yeah, you can be the greatest
You can be the best
You can be the King Kong banging on your chest

You could beat the world
You could beat the war
You could talk to God, go banging on his door
♥
I meni je isto predobra. Najomiljenija krimi serija..uvek ima nekih akcija i nije dosadna...inace sam od poslednje pete sezone pogledala 3 epizode i imam jos 9 :D
Gledala sam na RTS1 nekih 20-ak epizoda, super mi je bila, ionako volim 98% kriminalističkih serija :)
_________________
Dobar mi je život, al' nisam ja..

Praslin<3

Kate Beckett





I don`t wanna waste another day, stuck in the shadow of my mistakes!


Broj poruka :

7273


Godina :

21


Location :

U Novom Sadu, na Dunavu..



Pratila sam ju dok je bila na RTLu ranije, ovo sad mi je prekasno i u koliziji s drugom serijom pa ne gledam ponovno. Genijalna serija, mislim da nisam propustila ni jednu epizodu :3
---
Permissions in this forum:
You
cannot
reply to topics in this forum